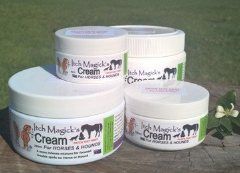 Itch Magic Cream 100ml
For Horses and Large dogs
Itch Magick's Cream is our signature blend of Essential Oils plus Iodine in a rich, creamy base.
This product is for hotspots or other persistent problem areas. It has a thicker nourishing base that is readily absorbed into the skin. Always PATCH TEST first.
Itch Magick's Cream can also be used on dogs with similar skin conditions. It may be used on specific spots like the top of the tail and it won't leave your dog's coat oily or waxy. We always suggest you distract your dog for 10 minutes or so after using, this avoids your dog licking it straight off before it has a chance to do any good. This product does contain Tea Tree Oil.
Itch Magick's Cream can be used twice in the first 48 hours then 2-3 TIMES A WEEK is generally all that is needed. . In bad cases it may be best to apply daily in the initial week.
This is a gentle & cleansing Shampoo suitable for Dogs & Horses.
Available in 250ml, 500ml & 1 litre Bottles.
It contains our signature blend of Essential Oils & will leave your four legged friend smelling wonderful!
Designed to gently cleanse & revitalise the skin & coat.
INSTRUCTIONS:
Apply small amount to wet animal & work into a rich lather then rinse well.

Beware! A little goes a long way....
Contains Essential Oils of Citronella, Eucalyptus, Tea Tree, Lavender & Cedarwood.