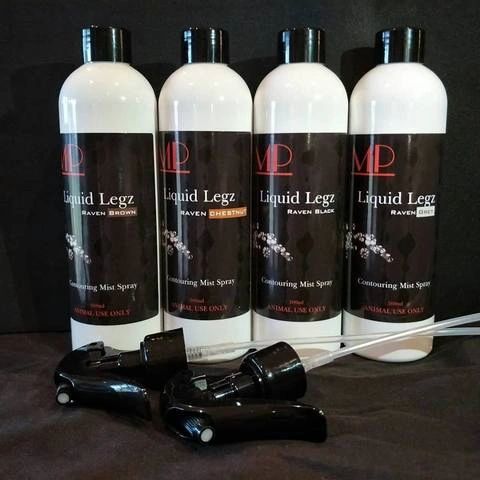 MP LIQUID LEGZ 300ML
Liquid Legz - Raven Colour Series is a unique Contouring Mist spray for use on the hair that is water resistant and smudge resistant in all conditions!
Supplied in a light mist spray bottle for ease of application and a light even spread. Liquid Legz can also be used with a DRY SPONGE to apply and blend (please no CHUX wipes as they absorb colour and moisture and are not suitable)
Perfect for building colour shades on all colours with less risk of rubbing off on the tail than other products!
this product is better used on NON clipped coats to allow for pigments to adsorb to the hair shaft.
No harsh chemicals, no oily residue
ALSO BE AVAILABLE IN GREY, CHESTNUT & BROWN!
For APPLICATION TO ANIMALS ONLY when used on healthy intact (unbroken) skin
300ml (soon available in larger sizes)