QI GOLD WERUM 450ml, 950ml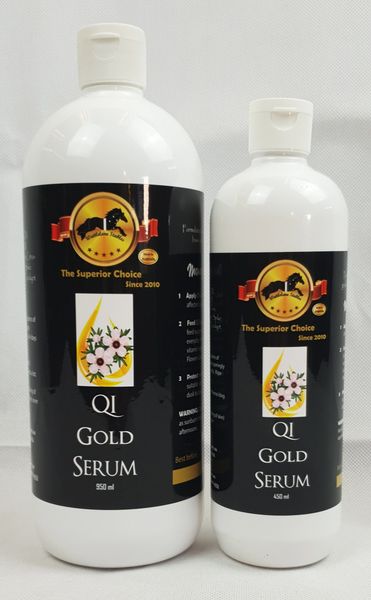 QI GOLD WERUM 450ml, 950ml
QI GOLD SERUM
In February 2014 QI Gold Serum was created for the first time to use in conjunction with either QI Ease or Hair In A Bucket. When applied to problem skin it was found at trial that dramatic improvement was noted in 3 to 10 days on dogs, horses, cows and pigs. New healthy hair growth was easily visible at the 7-10 day mark.
Using only premium human grade oils blended to soothe, heal, repel insects, speed up healthy hair growth and smooth dry brittle hair. We found some other products used on itchy horses contain potentially harmful ingredients when used over a length of time of use. Whatever you apply to your animal's skin is likely to be in contact with your own. For example Iodine is beneficial to use on a wound on the first application but can cause hypothyroidism (in you and your animal) over time and leave permanent scarring as it interferes with the natural healing processes with frequent use. QI

Gold Serum does NOT use any such harmful ingredients.
Fortified with 10 essential fatty acids, Vit A, E and Omega 3, 6 & 9. We have added oils that also assist in smoothing the entire hair shafts (adding softness and vitality) plus free up the natural secretion and manufacture of sebum within the follicle, hence encouraging healthy hair growth.

Caution is recommend to apply the QI Gold Serum late afternoons to avoid sunburn as oils tend to burn and overheat animals in the warmer months.