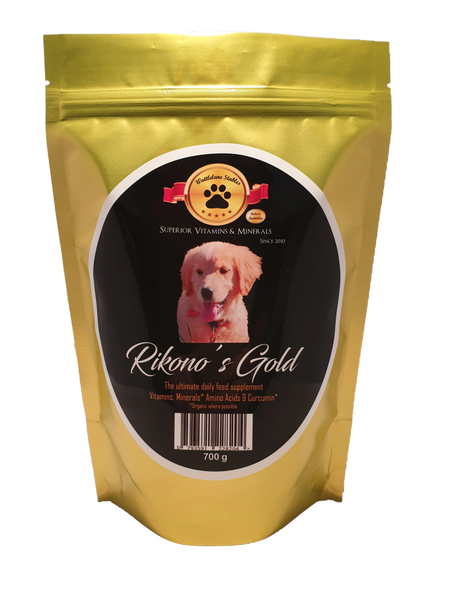 RIKONOS GOLD 350G
Australia's most comprehensive canine supplement!
We go over and above in delivery of vital minerals, vitamins, 
amino acids and other important nutrients. Each is delivered 
with it's co depended mineral for optimal absorption and 
organic & chelated where possible.
Including beneficial amino acids for coat colour, increased 
protein synthesis and muscle development. Of note we also 
added boron, biotin and chromium and Curcumin to make 
this a daily all in one blend.
The delivery of nutrients in Rikono's Gold is per dose not per 
kilogram ensuring an extremely comprehensive blend to keep 
your precious family member in optimal health.
Rikono's Gold
 is recommended to be fed daily along with 
fresh meat, bones and some vegetables and fruit 
to provide a complete and balanced diet.

Daily Feed rate
Small 3-5kg = 6g
Medium 6-11kg = 10g
Large 12-20kg = 15g
X Large 21+kg = 22g
Puppies 1/2 of adult size rate
Gestation & Lactating bitches 1 1/2 size rate