SHAPLEY'S EQUINE TONE, Black, Gold, Red, Whitning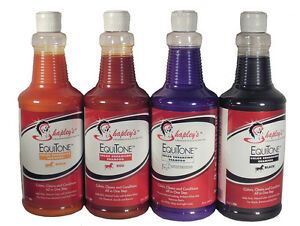 SHAPLEY'S EQUINE TONE, Black, Gold, Red, Whitning
EquiTone Shampoo is a one step premium shampoo and conditioner that adds rich, brilliant color as it cleans and conditions. It adds vibrancy and vitality to the hair imparting a natural color and a brilliant shine. It is a must for rejuvenating sun damaged or body clipped hair and adding dimension and highlights to dull, dried out coats, manes and tails. EquiTone enriches the natural color of the horse. The Whitening shampoo adds an optical brightness to all coat colors as well as making white or gray coats stain free and sparkling white.
Use EquiTone on sun bleached coats and tails to restore color and vibrancy. Use EquiTone on newly body clipped horses as it will restore color to mousy bay and washy chestnut coats. Or use EquiTone Shampoo any time your horse's hair needs a boost of color and shimmering highlights.

EQUI-TONE Colour Enhancing Shampoo

• Adds vibrancy and vitality to hair
• Adds natural colour and brilliant shine
• Rejuvenates sun damaged or clipped coats
• Adds dimension and highlights to dull, dried out coats, manes and tails
• One step premium shampoo and 
condition
HOW TO USE:
1. Dampen animal all over then liberally sponge Equitone into coat.
2. Leave for 5 minutes then check for dry patches, re apply to these areas.
3. Leave for another 5 to 10 minutes, depending on intensity you want.
4. Wash off and condition all over.
1. Wash with Hi Shine Shampoo, then apply Equitone all through the hair to the roots and lather.
2. Leave for 20 minutes, then rinse out and apply conditioner.
BLACK – For darkening blacks, bays and browns. Perfect for tinting dark manes and tails.
RED – For darkening and enriching the red pigment in chestnuts, mahogany bays and liver chestnuts.
GOLD – For darkening and enriching the gold pigment in palominos, buckskins and light bays.
WHITENING – Great to whitening and creating a crisp clean look to all coats.