Shapleys Natural Elegance Conditioner 946ml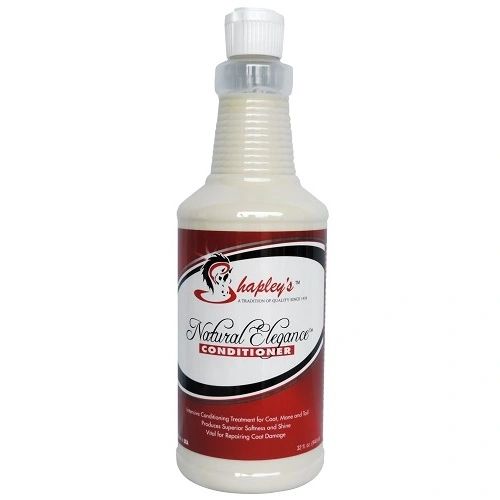 Shapleys Natural Elegance Conditioner 946ml
Shapley's Natural Elegance Conditioner 946ml
Natural Elegance Conditioner produces superior softness and shine. It is an intense, therapeutic conditioner for coats, manes and tails that has to be tried to be believed! It is vital for repairing dry, coarse, brittle hair and for preventing hair damage. With just one application of this highly concentrated conditioner, the hair will ins
tantly improve and become soft, manageable and silky. Dry, dull coats will be rejuvenated and manes and tails will comb out immediately. One application will keep your horse looking show ready for four or five days!
Only a small amount of this concentrated conditioner is needed. Work into wet hair after bathing and rinse out. It works even with cold water. Natural Elegance will produce a natural, healthy shine. Keep this product in a cool, dry place out of direct sunlight to keep ingredients from separating.
Natural Elegance needs to be a part of any horse owner's arsenal of products to contol hair damage and keep coat and tail hair strong, supple and silky smooth.
Natural Elegance is available in a 32 oz bottle.