BLING IT ON PONY 200G, 500G 1KG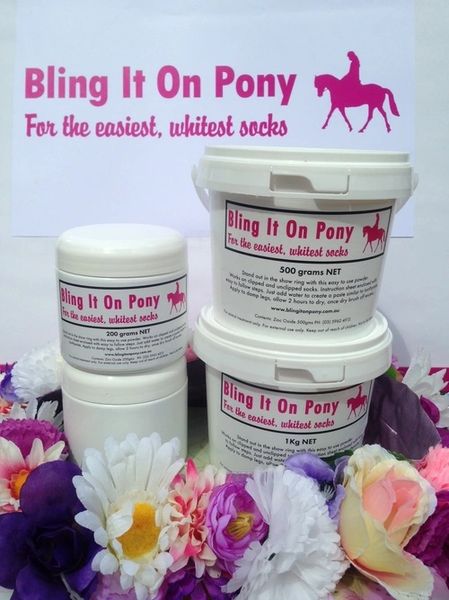 BLING IT ON PONY 200G, 500G 1KG
Bling It On Pony is a zinc oxide based powder used for whitening socks and markings on horses and ponies. It is a fantastic product to help get those dirty socks looking pristine for any competition.
A simple and easy to use powder, just add water and create a smooth paste and apply with a brush or sponge. For best results apply the night before to towel dried socks after washing, and lightly brush excess in the morning before competing if required.
We have also had favorable results using our product with treatment of Greasy Heel and Mud Fever,
Preparation:
Wash socks to remove surface dirt (don't worry about scrubbing as Bling will do the rest!). Create a thick workable paste (approximately 100 grams of 'Bling It On Pony' powder to 70mls of water). For best results apply to towel dried legs the night before competition as paste needs to dry completely.
Application:
Apply evenly to socks using a sponge or paint brush. When applying to long feathers or socks use a thicker paste but when applying to clipped socks a thinner paste works best.
Wipe off any excess that may have run down hooves, as paste may colour hooves slightly. Can be applied to face but be sure to avoid eye area.
Allow socks to dry overnight. Using a clean brush, lightly brush the socks to create a natural white look.
Finishing Touches:
Overnight stains can be removed with shampoo and a touch up with a little extra Bling leaving time to dry (~2 hours).