FLOWERS GOLD 2Kg, 4Kg, 12Kg, 20Kg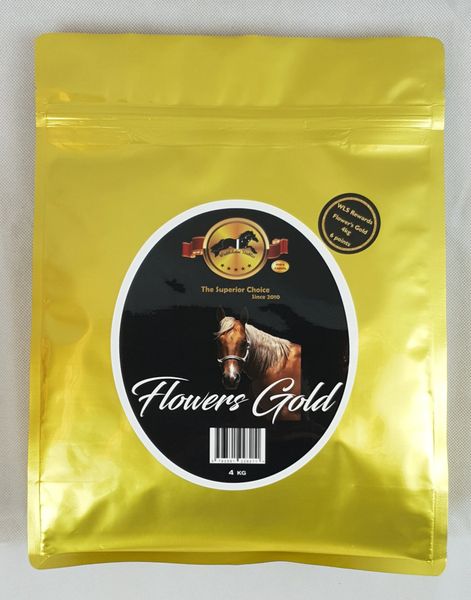 FLOWERS GOLD 2Kg, 4Kg, 12Kg, 20Kg
Wattlelane Stables FLOWER'S GOLD meets the daily dietary needs for horses living under Australian conditions, delivering the optimum balance of necessary minerals and vitamins for total health and wellbeing.
FLOWER'S GOLD is made from ORGANIC and CHELATED minerals that offers a superior bioavailability when compared to the simple, non-chelated ingredients of many other feed sources. NO SUGARS added and no hidden fillers, just 100% pure minerals.    Making it a safe choice to feed to horses with laminitis or insulin.

CHELATED minerals are the preferred choice of many equine nutritionists because their complex structures survive passage through the stomach and into the small intestine where absorption into the bloodstream takes place thereby avoiding wastage of the precious mineral feed.

FLOWER'S GOLD boasts balanced co-dependent minerals such as Zinc to Copper 3:1, Calcium to Magnesium 2-3:1 and Calcium to Phosphorus the ideal range is 1:1 to 6:1 - we do 4:1.  Our blend may assist in managing Big Head in horses consuming grasses such as buffel grass, setaria, kikuyu and panic grass.

FLOWER'S GOLD not only balances Calcium to Magnesium but combines with Boron that acts as a 'synergist' to calcium and magnesium (helps calcium and magnesium do their jobs). In the absence of boron, up to 40% of calcium and magnesium is lost in the urine.

With added Chromium allows insulin to be used more efficiently.  Safe quantities of Iron, Iodine, Selenium, Zinc & Copper

FLOWER'S GOLD fed alongside HAIR IN A BUCKET and/or QI EASE  will greatly enhance the results of both of these feed supplements.

Feed just 110 grams (a heaped measure cup that is enclosed in each bucket) to all horses over 200kg. Half a measure cup for horses under 200 kg.  The 4kg bucket will supply 36 days of supplementing for horses over 200kg.   A balanced daily equine mineral supplement.