HAIR IN A BUCKET 2Kg, 3Kg, 10Kg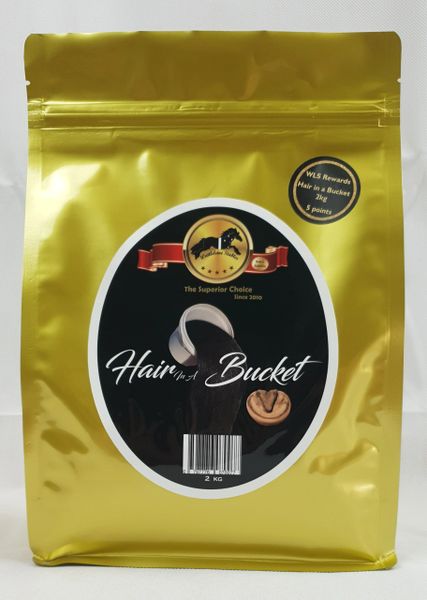 HAIR IN A BUCKET 2Kg, 3Kg, 10Kg
Hair in a Bucket is just that. Add to your horses feed ,it promotes healthy hair growth. 
It delivers a dynamic blend of co-dependent organic cheated minerals to metabolism rapid hair and hoof growth. A horse fed the right nutrients in the right proportions can expect superb quality hoof and hair growth to a level that is genetically possible for your particular horse,
Care should be taken to protect the new hair growth by keeping clean, moisturizing and rugging if necessary to eliminate rubbing or mutual grooming practices that cause hair loo or breakage.
Check for mite evidence that commonly cause hair loss, thinning and excessive rubbing.
Best results can be expected when fed alongside FLOWER'S GOLD.
WHAT IS IN HAIR IN A BUCKET?
Per Kilo: Methionine 20%, Organic Selenium 18 mg*, Organic Manganese 2080mg, Organic Zinc 6480mg and Biotin 400mg & Silica (Zeolite).  Recommend feeding 50 grams daily to horses and 12 grams to dogs.
​ Biotin is a B group vitamin and is water soluble, meaning it will NOT build up in the system. Although found naturally in some foods such as oats, rice bran and soybean meal, biotin can be deficient in a horses diet due to other foods that are eaten (rancid oils).
Biotin has long been associated with equine hoof care and hair growth. A horse fed Biotin can expect a shinier healthier coat with improved overall skin condition. Growth rates do vary however and results are usually witnessed notably over months of supplement feeding rather than weeks. Biotin is best fed in conjunction with Manganese.
Organic Manganese deficiencies of this important mineral may result in impaired hair growth, poor wound healing and other skin issues as well as loss of hair colour. Without Manganese biotin is not utilized efficiently.

Organic Zinc is involved in the building of keratin. A horse needs zinc for the formation of collagen which helps anchor the hair in the skin. Zinc also facilitates the necessary cell division which makes the growth of hair possible. Hair loss may be the first sign of zinc deficiency. 
Selenium (Organic) The antioxidants of selenium help the body absorb Vitamin E. Selenium also aids the body in processing and using proteins that are consumed. Hair is primarily composed of proteins so when the body is able to better process the proteins, hair growth will follow. Deficiencies in selenium (and zinc) often lead to hair loss. Organic Selenium has been found to have higher digestibility than inorganic selenium.
Methionine is an essential amino acid that helps against premature hair loss. It also improves hair texture, quality and growth. Methionine is a powerful anti oxidant and a good source of sulphur, a necessary nutrient that helps prevent hair disorders. Methionine increases blood flow to the skin surface thereby increasing nutrient supply to hair follicles and aiding hair production.
Successful hair growth is achieved easily in a healthy horse fed the necessary building blocks for healthy hair growth.  Hair growth is further supported by being kept clean, maintaining natural oils and being richly conditioned to protect the hair from breakage. Plaiting may damage hair.