Itch magic Oil 250ml, 500ml, 1Ltr, 5Ltr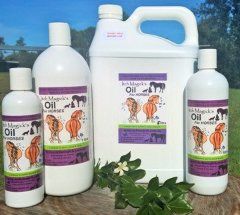 Itch magic Oil 250ml, 500ml, 1Ltr, 5Ltr
Itch Magick's Oil contains our signature blend of Essential Oils plus Iodine in a nourishing and natural Oil base.
It is great to cover large areas and perfect to penetrate through the thick hair of the mane and tail. It has just the right consistency to work its way down to the skin when massaged over the affected area.
We used Itch Magick Oil twice in the first 48 hours then WEEKLY is generally all that was needed. Watch the Oil video here.  Read and download application instructions here. We would suggest the 500ml or 1 lt Bottle to get you started.
Be generous and thorough when you first start, You will use progressively less as time goes on.  Be aware this is an OIL so please use COMMON SENSE. In warmer weather if saturating your horse with the Oil then keep them covered and away from direct sun.
See image 2 as an example of some results seen after trying Itch Magick Oil.