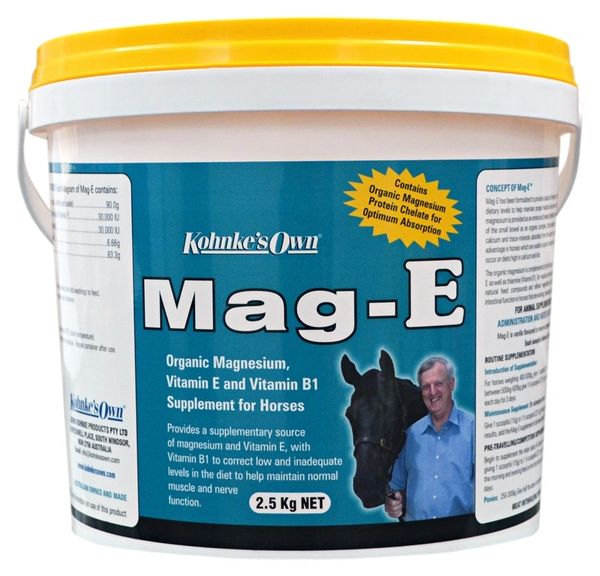 MAG-E
Organic Magnesium, Vitamin E and Vitamin B1 Supplement for Horses
Mag-E® is the ideal supplement for working and travelling horses to provide a well absorbed form of magnesium, as well as essential Vitamin E and Vitamin B1, to help nerve and muscle function.
Mag-E® is an innovative supplement developed after 4 years of field trials on thousands of horses.
High levels of organic magnesium – with the majority provided by 'organic' amino acid (yeast) chelate which reaches the absorption sites as an 'amino acid shielded' complex for optimum absorption.

Natural and synthetic Vitamin E – corrects low dietary levels to ensure optimum muscle and nerve function.

Vitamin B1 (thiamine) – to help make up shortfalls in the diet of working horses fed on grain based, low roughage diets.

Debittered yeast as a natural food compound to help maintain normal gastro-intestinal function in working, travelling or competitive horses.
Administration and Rate of Supplementation:

Mag-E is vanilla flavoured to ensure accpetance by suspicious eaters.
Each scoopful delivers 15 grams.
Introduction of Supplementation:
For horses weighing 400 - 500KG, give 1 scoopful and for larger horses weighing between 500 - 600KG give 1.5 scoopsful in the morning and evening feed daily each day for 5-7 days.
Maintenance Supplement (On subsequent days):
Give 1 scoopful or 1.5 scoopsful for larger horses, in one feed daily. For best results, add the Mag-E supplement in the feed within 2-3 hours prior to exercise or travel.
Pre-Travelling/Competition Supplementation:
Begin to supplement the ration about 4-5 days prior to planned travel or competition, giving 1 scoopful to 1.5 scoopsful relative to the horse's body weight, in the morning and evening feed on the first and second day, then once daily for the next 2-3 days.
Ponies(250 - 300KG):
Give half the above recommended supplementary amounts.
Active Ingredients (Amounts are per kilogram of Mag-E):
Magnesium (as amino acid chelate and oxide)

90.0 g

Natural Vitamin E (d-α-RRR-tocopheryl acetate) 

60000 IU

Thiamine Hydrochloride

6.66 g

Also contains other synergistic nutrients