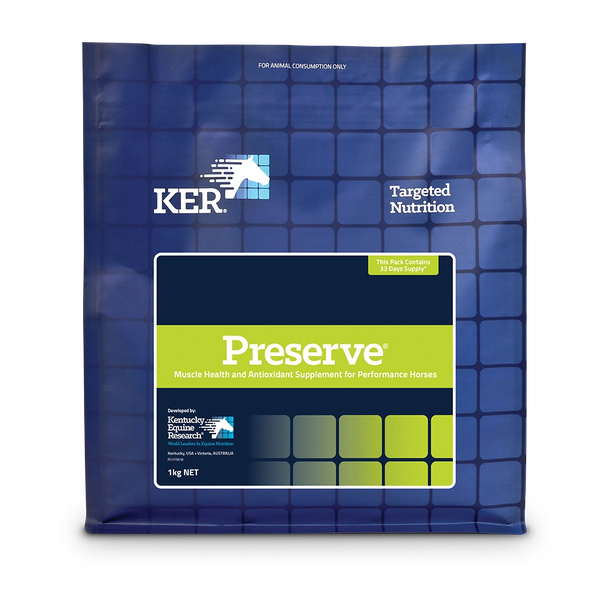 PRESERVE
Muscle Health and Antioxidant Supplement for Performance Horses
Preserve is a scientifically formulated supplementary source of natural vitamin E, organic selenium, magnesium and vitamin C.
Why use Preserve?
Aids in reducing muscle damage in working horses
Contains natural vitamin E, a powerful antioxidant, which is more biologically potent than synthetic forms
Contains organic selenium which is research-proven to be more bioavailable than inorganic forms. Selenium supplementation is essential for horses grazing selenium deficient pastures
Antioxidants for protection against inflammation and free radical damage
Vital antioxidants to assist in promoting a healthy immune system.
When to use Preserve?
Aids in reducing muscle damage in working horses
Horses prone to tying up
Horses recovering from illness or injury
To promote a healthy immune system
Supplementation for horses grazing selenium deficient pastures.
Feeding recommendations
The following amounts should be fed daily.
Mix well into a damp feed.
Feed 20g (2/3 scoop) for ponies.
Feed *30g (1 level scoop) for horses.
These recommendations are for a horse with a mature body weight of 500kg. Please adjust according to the weight of your horse.
Preserve may be used strategically during periods of high-intensity exercise to protect from muscle damage and soreness for all performance horses. In this case, feed daily for three days prior to intense exercise, on the day of competition and for three days after.
Antioxidants and working horses
Muscle damage is a constant risk in working horses, leading to reduced performance or inability to work.  Supplementation of antioxidants is important for hard-working horses to help ward off the ill effects of mass-produced free radicals associated with exercise.  Horses with an inadequate reserve of antioxidants may experience muscle soreness or stiffness during an exercise bout and prolonged recovery following hard work. Other effects of insufficient antioxidant intake include reduced immunity and decreased fertility.
Available Pack Sizes
1kg                                       33 day supply*
4kg                                       133 day supply*
Nutritional Content

30g

1kg

Vitamin E

^

1,500IU
50,000IU
Selenium

†

2mg
67mg
Magnesium
3g
100g
Vitamin C
750mg
25