PRO 50 SHOWCRAFT 50 WATT CLIPPER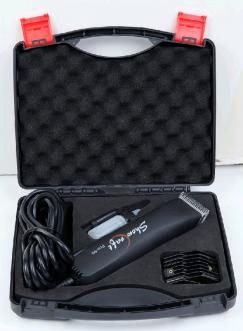 PRO 50 SHOWCRAFT 50 WATT CLIPPER
The Showcraft Pro 50 is a two speed clipper with a 50 Watts mains powered motor. Designed for trimming dogs, cats and the bridle paths of horses, the clipper runs at a quiet 68 Decibels .CE approved with S.A.A. approved electrical cord & plug and EMC certification. 
Supplied in a sturdy carry case the Pro 50 comes complete with a quick release 10# 1.6mm heavy duty high precision blade set.Plus *lubricating oil * cleaning brush * * operating manual with Warranty . 
12 Months local Warranty covers any mechanical or electrical manufacturing defects. Simply contact the store where purchased along with receipt or proof of purchase.