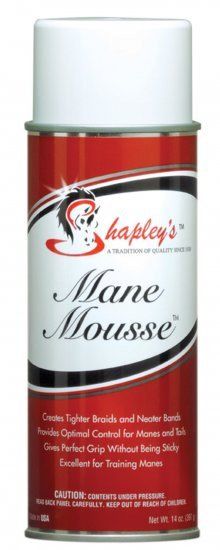 SHAPLEY'S MANE MOUSSE
Great for banding manes

**Aerosol - contact us for a postage quote***

MANE MOUSSE
• Perfect for taming those unruly manes and tails
• Braiding and banding aid lasting all day
• Makes perfect quarter markers that don't flake or shift
• Doesn't leave the hair sticky or flaky
• Will not cause dandruff
1.Shake can well and spray Mane Mousse foam into your hands.
2.Wipe onto mane and tail.
FOR BRAIDING

- apply in sections of the hair
If applied to the tail, then braided all the way down for the night, the next day you will have beautiful waves in the tail when you remove the braid.