SHINE & FOCUSSED 3 IN 1 DETANGLER 500ML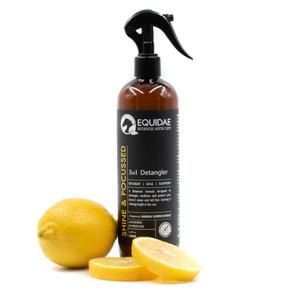 SHINE & FOCUSSED 3 IN 1 DETANGLER 500ML
SHINE & FOCUSSED 3in1 Detangler is a multi-purpose horse mane and tail detangler with natural ingredients to provide volume, hydration, UV protection, shine and gives your horse a tangle free beautiful looking mane and tail.
The SHINE & FOCUSSED 3in1 Detangler promotes intense hair hydration and shine with natural anti-frizz properties to leave your horse's mane and tail shining bright in the beautiful rays of the sun. 
1 - Detangles mane and tail hair
2 - Add shine to mane and tail hair
3 - UV protection for natural elements.
We used an Organic Aloe Vera Juice, Rice Bran Protein and Banksia Flower Extract to create an all natural detangler base, infused with pure essential oils of Rosemary, Basil and Rasberry to create the beautiful and gentle herb Flower Aromatic™
BOTANICAL INGREDIENTS:Organic Banksia Flower Extract, Essential oils of Rosemary, Basil and Lemongrass with Raspberry Extract.
DIRECTIONS FOR USE: Wet your horse's coat. Apply a generous amount of SHINE & FUCUSSED Shampoo on a damp sponge and massage it all over your horse's body, mane and tail.  Rinse off thoroughly.
For best results apply SHINE & FOCUSSED 3in1 Detangler to your horse's mane and tail to help minimise hair breakage when brushing it out.
STORAGE: Due to the sensitivity of the natural ingredients, please make sure to close the lid after use and store in a cool, dry place away from direct sunlight.
 CAUTION: For external equine use only. Always patch test the product first before use.  Avoid contact with eyes, lips and sensitive areas (human and equine). In the rare event of an adverse reaction, discontinue use. Keep out of reach of children. Always wash your hands after use.
 DISCLAIMER:  No therapeutic claim is made or intended for this product.  This product is not intended to diagnose, treat, cure, nor prevent any disease. If your horse experiences any adverse effects from using this supplement, discontinue use and contact your veterinarian. For animal use only.