SHOWPREP Hybrid Combo Horse rugs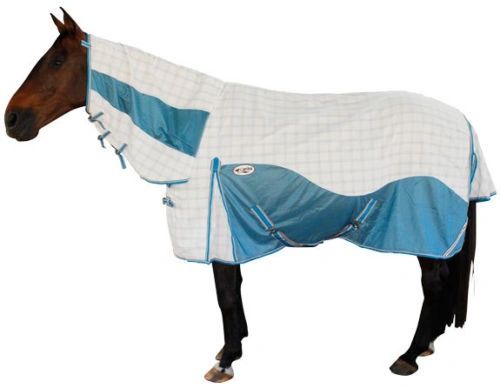 SHOWPREP Hybrid Combo Horse rugs
Our Hybrid neck combo horse rugs combine the best aspects of both a polycotton rug and mesh all in one rug.
This is a fantastic alternative to an all mesh or ripstop Combo and can be used year round. The Mesh inserts in the neck and skirts allow extra airflow, keeping your horse protected from the harsh Australian sun & insects while still keeping them cool on those warmer days.

Featuring our 300gsm Diamond Weave PolyCotton ripstop which is strong, but still breathable and cool. The tear/ripstop threads give the Showprep Hybrid Combo Horse Rug strength and durability.
How are our Hybrid Horse Rugs different?
Apart from the fact that we use a high end Diamond weave Ripstop fabric, we also use our strong and durable 270gsm Euro Breeze mesh in the neckline and skirts.

Feature Packed:
• Dual Ripstop Diamond Weave Ripstop made from quality breathable 300gsm PolyCotton blend
• Soft Euro-Breeze Mesh inserts - 270gsm
• Mesh UV stabilized rating of more than 80% protection )
• Belly Surcingles
• Reinforced dual chest straps
• 3 x Neck Buckles
• Shoulder Gussets for freedom of movement
• Rump darts, for a snug fit
• Adjustable & removable leg straps
• Fleece padding to protect the wither
• Internal lining in the shoulders & mane to help alleviate rubbing
Binding Colours: We are continually changing binding and thread colours to match the mesh colours and as such binding colours can vary from the images shown. If you have any concerns please contact us before ordering.