SOOTHING & CALM ALOE VERA SPRAY 500ML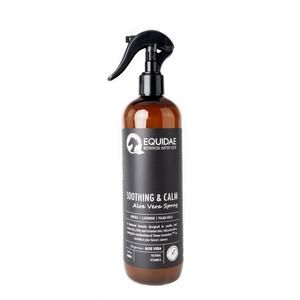 SOOTHING & CALM ALOE VERA SPRAY 500ML
SOOTHING & CALM Aloe Vera Spray is a non-oily natural alternative to ithy dry skin for horses, formulated with organic, natural and plant-based ingredients to Sooth, nourish and restore your horse's skin with every application. Easy to reach mane and tail skin areas especially when horses are rubbing out mane and tail hair.
The non-oily, Organic Aloe Vera based product is designed to easily reach your horse's skin to form a protective barrier to retain and restore hydration levels to your horses' skin, that may assist in the natural skin regeneration and hair re-growth process.
The presence of natural soothing agents may reduce irritation and inflammation while still allowing the skin to breathe, especially in hot or humid weather.
The pure botanical ingredients used in this formula was based on skin conditions caused by excessive sweating, bald patches due to saddle, tack or blanket rubbing and itching associated with dry, flaky skin and irritation caused by insect bites. 
The presence of the natural soothing agents in this formula can also help reduce irritation after clipping, especially around ears and face.
All our products are pH balanced to suit the equine family's sensitive skin.
BOTANICAL INGREDIENTS: Witch Hazel Extract, Lavender oil, Cedarwood, Cehami (Australian Native) Extract, Essential oils of Palma Rosa, Lavender, Frankincense, Blue Cypress, Kunzea (Australian Native) and a Natural derived Vitamin E oil.
DIRECTIONS FOR USE:  Shake well before use.  Introduce the product to your horse. SOOTHING & CALM Aloe Vera Spray can be applied, as often as needed, to dry, bald and itchy areas on the skin of your horses' body, mane and tail.  Spray as close to your horses' skin as possible and gently massage the product in.
For face and smaller areas use SOOTHING & CALM Aloe Vera Gel.
STORAGE:  Always close the lid after use.  Store in a cool dry place, away from direct sunlight.
CAUTION:  Keep out of reach of children.  For Equine use only.  Always patch test the product first before use.  Avoid contact with eyes, lips, inside of ears and all sensitive areas (human and equine).  In the rare event of an adverse reaction, discontinue use.  Consult your doctor if pregnant or veterinarian before using on pregnant and lactating mares.
DISCLAIMER:  No therapeutic claim is made or intended for this product.  This product is not intended to diagnose, treat, cure, nor prevent any disease. If your horse experiences any adverse effects from using this supplement, discontinue use and contact your veterinarian. For animal use only