SOOTHING & CALM SUNSCREEN POWDER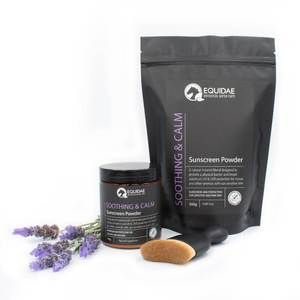 SOOTHING & CALM SUNSCREEN POWDER
SOOTHING & CALM Horse Sunscreen Powder is a fine mineral blend that provides sunscreen and sun protection and is safe to use on all animals with sensitive pink skin, suffering from possible sunburn and already damaged skin or other irritating skin conditions related to environmental conditions.
Easy to apply, water-resistant and non-greasy sunscreen and protection for your horses' sensitive skin.
SOOTHING & CALM Sunscreen Powder for is formulated with 100% natural ingredients, Australian owned and an Australian Certified Toxin-Free solution that is safe to use. 
Apply to any area where sunscreen and protection are needed (use the brush for easy and quick application). The SOOTHING & CALM Sunscreen Powder can be soothing to an already sun damaged and irritated sensitive skin. 
The SOOTHING & CALM Sunscreen Powder can also be used as a grooming aid for whitening your horse's socks and blaze plus providing all-day protection!
The SOOTHING & CALM Sunscreen Powder is designed to stay on your horse for long periods at a time, it won't rub off or come off when your horse drinks.   It is long-lasting, water-resistant, non-greasy, non-irritating very easy to apply and a little goes a long way.
DIRECTIONS FOR HORSE SUNSCREEN USE:
For full coverage gently brush the Sunscreen Powder onto your horses' skin.  
For a thicker coverage just add two-parts water to one-part Sunscreen Powder to create a soft cream that you can apply to your horses' skin with a soft sponge or with your hands.
Can also use as makeup to brighten up your horses' blaze or white socks at shows or competition.
STORAGE:
Always close lid after use.  Store in a cool, dry place.
CAUTION:
Keep out of reach of children.  Always patch test before using the product.  Avoid contact with eyes.   In the rare event of an adverse reaction, discontinue use. Always wash your hands after use.
DISCLAIMER:
No therapeutic claim is made or intended for this product.  This product is not intended to diagnose, treat, cure, nor prevent any disease. If your horse experiences any adverse effects from using this supplement, discontinue use and contact your veterinarian. For animal use only.